Kahoot!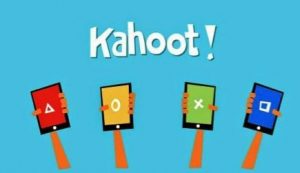 Subject:
Technologies
Year level:
Year one – year six
Strand:
Digital Technologies
Sub-strand
Digital Technologies Processes and Production Skills
Content descriptor:
Plan, create and communicate ideas and information independently and with others, applying agreed ethical and social protocols (ACTDIP013).
What is it?
Kahoot! Is a fantastic way to introduce technology into the class room. It is an online game-based system that allows individuals to answer questions in the form of multiple choice.The creator of the quiz (this can be either the teacher or student) choices the questions or the quiz type to further develop what they are learning in the classroom. These answer choices are represented using symbols and colours. The questions can include videos, pictures and words.
Kahoot! is typically displayed on a large screen using the teacher account and students answer the questions using their own technological device such as iPads, smartphones or computers.
Students can play individually or in groups and are able to select their individual or group name. Students are rewarded with points on their accuracy and how quick they can answer the questions.
After every question the teacher and students are given the current score board represented in numbers and graphs.
How do I access it?
It is easily accessible through an URL address. Once you as a teacher have accessed this page you can create a free account and create your quiz, survey or discussion. Once this is created, the teacher is given a secret pin once they make the game live. Students access the live game by typing in the pin after accessing the student link. They do not need an account or an application to access the Kahoot! game on their device.
Link:
Cross-curriculum priorities and general capabilities:
Literacy, Numeracy, Information and Communication Technology (ICT) capability and Critical and Creative Thinking
Links to other learning areas:
Kahoot! can used for any subject. It can focus on one or multiple learning areas.