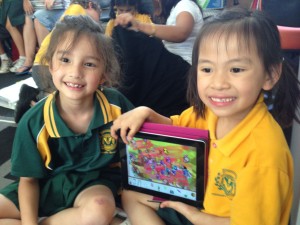 Subject: Digital Technologies
Year Level:F-2
Strand:Digital Technologies processes and production skills
Sub strand:Using digital systems
2.4 Identify, explore and use digital systems ( hardware and software components) for personal and classroom needs.
Link to the resource
http://edujen.com/?p=1790
http://vocaroo.com
Cross curriculum priorities and general capabilities
Critical and creative thinking (CCT),Personal and social capability (PSC),Information and Communication Technology (ICT),Literacy (LIT)
Links to other learning areas
English, Science
A classroom activity using this resource
This is a fun way to encourage our  students to use digital technologies tell their stories. A "talking" QR code is a fun activity to engage students young and old. This activity can be used for digital storytelling and to promote literacy. Use talking QR codes to encourage students to create authentic stories and share them with their peers and their families. Students in early childhood settings can tell the story about their artwork or  read a story they have written. Students who are at  pre-reading and prewriting stages can record themselves "reading"  the print written by their teacher. Older students can add a narrative to a project or make their thinking visible by explaining the process they followed to solve a maths problem. Talking QR codes can be used for learning a language or to describe a science experiment. I am sure you can`t wait to get started, the best part is that it is so easy the students can do it themselves. I have selected a very quick free way to do this in your classroom. It works with a computer or any mobile tablet or smart phone.
How to use this resource
You start by creating a recording and linking to it with a quick response code or QR code.
You need to record an audio file and store it online which can be accessed via a QR code.
To do this activity  you will need access to wifi
Go to this site http://vocaroo.com
Vocaroo is  easy to use.
It starts recording immediately you just have to press stop when you are done.
You can listen to your recording and redo it if needed.
It gives you a range of options for sharing the recording- select Qr code on the bottom right hand corner
You can read the QR code with any QR code application these are free for mobile devices-