Wonder Workshop is WONDERFUL – see what I did there?
Inspiring the up and coming generation in using digital technologies can be a challenge at times, especially with maintaining attention.  But Wonder Works provides colourful and engaging resources which develop students confidence and competency in using and manuvering their skills with digital technology.

Subject
Digital Technologies
Year Level
Foundation to Year Two
Strand
Knowledge and Understanding
Sub Strand
Recognise and explore digital systems (hardware and software components) for a purpose
Resource Link
https://www.makewonder.com/play/ideas/
Price
Free resource information – price varies on suggest apps for lesson plan templates
Cross Curricular Capabilities
The resources suggest that these apps can assist in most learning areas as it is used to consolidate content specific learning which fosters play based learning.
For Example – Using Go App
English: – Literacy (Foundation – Year 2)
Comprehending texts through listening, reading and viewing
Interpret and analyse learning area texts
Navigate, read and view learning area texts
Composing texts through speaking, writing and creating
Compose spoken, written, visual and multimodal learning area texts
Word Knowledge
Understand learning area vocabulary
For example – Using Blockly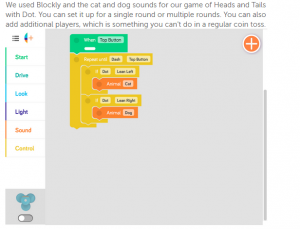 Math: Chance ( Year one and two)
Year One – Identify outcomes of familiar events involving chance and describe them using everyday language such as 'will happen', 'won't happen' or 'might happen'
justifying that some events are certain or impossible
Year Two – identify practical activities and everyday events that involve chance. Describe outcomes as 'likely' or 'unlikely' and identify some events as 'certain' or 'impossible'
classifying a list of everyday events according to how likely they are to happen, using the language of chance, and explaining reasoning
Easy Lesson Plans
Example –  Heads or Tails