Introduce your class to coding with this App that will inject a love for coding and becoming a 'Story Creator.' Codeable Crafts is an introduction for children to the world of coding that will leave a lasting impression. It is fun, engaging, and enhances creativity as children develop their own imaginative stories. They use a combination of simple drawing tools to develop their own characters, and coding applications to 'bring their characters life'. 
In the classroom:
Codeable Crafts is an educational tool that allows children to learn the basic concept of Computational Thinking. It has a variety of character templates that are visually stimulating for each child to animate using a basic set of coding blocks.
There are no limits to the possibilities of stories the class can create as they become the master creators of the characters they draw, design, and animate.  Codeable Crafts is an app that could be easily integrated into other areas to enrich learning whilst exposing and teaching about coding. An example is; during a unit of work introducing a writing genre,  'narratives,'  the class would be able design their characters, write their story, and then use this app to 'animate' their written story.  This is elementary coding that the children will love.
Link for this resource:
Visit Website: https://www.codeablecrafts.com/
iTunes: https://itunes.apple.com/au/app/codeable-crafts/id1050901522?mt=8
Google Play: https://play.google.com/store/apps/details?id=jp.co.benesse.ccs&hl=en
Year level: Foundation – Year 1.
Subject: Digital Technologies
Strands: 
Processes & Productions Skills
Computational thinking
Defining problems and defining digital solutions (F-2)
Communicating ideas and information
Knowledge & Understanding
Digital systems

The components of digital systems: hardware, software and networks and their use.
Content Descriptors:
Recognise and explore digital systems (hardware and software components) for a purpose (ACTDIK001)
Follow, describe and represent a sequence of steps and decisions (algorithms) needed to solve simple problems (ACTDIP004 )
Integrated Learning Opportunities:
English, The Arts, Mathematics
General Capabilities:
Numeracy, Critical & Creative Thinking, Information & Communication Technology, Literacy.
Getting Started:
View the brief tutorial overview showing how to decorate and animate character templates.
Simple Steps to follow:
Step One: Decorate and animate animal templates.
Step Two: Choose from My Sketchbook or My Storybook to start creating.
Step Three: Colour and add stickers to the templates in the sketchbook, and then select finished creatures to star in animated stories in the storybook.
Step Four: Start using a small set of basic coding blocks to create sound, movement, and text.
Step Five: Put the blocks together like puzzle pieces and watch the finished story.
iPad Screenshots: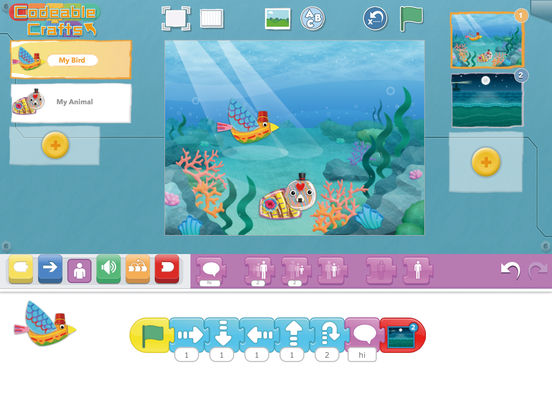 Additional Information:
Free App.

Compatibility: 

Requires iOS 8.0 or later. Compatible with iPad.

Category: 

Education

Updated: 

05 June 2017

Version: 

1.3.0

Size: 

100 MB

Languages: 

English, Japanese

Seller: 

Benesse Corporation
Reviews of this app as an education tool available at:
https://www.commonsensemedia.org/app-reviews/codeable-crafts