Resource:
Bee Bot App / Robot
Description:
Bee bot is a free educational app that can be used to teach computing and programming skills to young children through developing their directional language and sequencing. Children must input directions and instructions in order to direct a bee to move to a specific place (e.g. forward 2 steps, right 3 etc.). The app can be downloaded from the apple iTunes store for use on apple iPads, iPhones and iPod touch.
Here is a link to the app on the ITunes store:
https://itunes.apple.com/au/app/bee-bot/id500131639?mt=8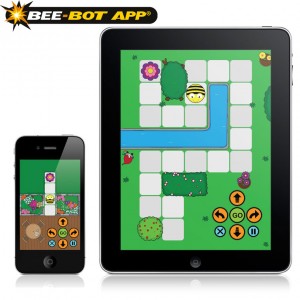 The app was developed from the original bee bot floor robot which is another alternative which can be used to teach sequencing and programming. Instructions can be input directly on the top of the robot which then follows the commands to follow the path along a mat. Students must program the correct directions.
Students are using data input and programming to problem solve.
Here are links with more information about the robot:
https://www.bee-bot.us (website)
https://www.youtube.com/watch?v=52ZuenJlFyE (video example/tutorial)
https://www.youtube.com/watch?v=SUrmcZxYNdM (tutorial of the process of directing robot through maze/path)
http://www.teaching.com.au/catalogue?catalogue=MTA&category=MTA-BEE-BOTS-EARLY-YEARS-ROBOTICS (purchasing the robot and selected mats)
SCSA:
Year: P-2
Learning Area: Technologies
Subject: Digital Technology
Content Descriptors:
Knowledge and Understanding: Digital systems (hardware and software) are used at home, in the school and in the community (ACTDIK001)
Process and Production Skills: Use data to solve a simple task/problem (ACTDIP003)
Links to other Learning Areas and General Capabilities:
Literacy
Numeracy – measurement & geometry – location and transformation
Science
Critical and creative thinking
Reference List
School Curriculum and Standards Authority [SCSA]. (2014). K-10 technologies outline. Retrieved from the School Curriculum and Standards Authority website: http://k10outline.scsa.wa.edu.au/home/p-10-curriculum/curriculum-browser/technologies/digital-technologies2